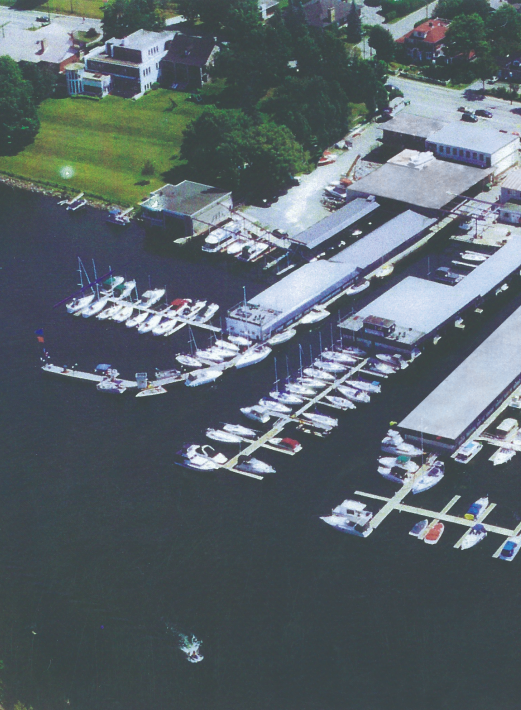 "LE MERRY CLUB" TODAY… IS NOW THE BIGGEST MARINA INSTALLATION ON LAKE MEMPHREMAGOG
"Le Merry Club" marina, located at 201 South Merry in Magog, QC, is a leading company that offers new and used boats. Our dedicated sales staff and our trained technicians are here to make your shopping experience fun, easy and financially advantageous. Feel free to utilize our various online resources today and use the expertise of our staff, which is dedicated to make every effort to offer you the perfect boat!

In business for several years already, "Le Merry Club" has gradually grew on the rise and offer "Le Merry Club" is the reference of choice for the brand COBALT, BERKSHIRE Pontoon (Warren Buffet), STINGRAY and inflatable MERCURY, in Quebec. For all these years, we strive to provide the best customer service that is providing repair and maintenance of quality and a wide selection of new or used boat for sale .
Over the years, Le Merry Club has continually expanded and modernized its facilities. A huge selection of nautical equipment is available at our shop at the marina . We now offer a showroom more with attractive financing services, in addition to repairs and sale of parts. Whether you need a new boat, water sport equipment, marine equipment, parts or maintenance service , The Merry MAGOG Club is here to help!
THE HISTORY OF THE MARINA...
Of a boat builder before 1900, this maritime enterprise started to use its infrastructures, bought out its neighbours and became a marina to the modern sense of the word offering vast possibilities from boat handling and servicing, to docks, boat selling and rental, etc.
This Marina was a boat builder more than a century ago and became famous in the 20's for its beautiful triple decker runabouts built of solid mahogany. The last fabrication was built for the master brewer of Molson Breweries, a gentleman going by the name of Mr. Hyde.
Records show that in our little creek located at the opening of Memphremagog lake there was already a sustained activity for boat building as early as 1865 and a great steam "side wheeler", 167 feet long was launched in 1867. This ship could attain the incredible speed for the time of 15MPH and was named "Lady of the Lake".

THE OLD LEGEND OF THE SEA MONSTER
American Indian legend says the presence of a mythical monster in the lake. A giant sea serpent which is nicknamed the "Memphré" monster.
In the year 1816, many people have reported seeing the monster and affirmed that the Indians were afraid to swim in the lake due to the giant snake. For many years, newspapers reported several stories of fishermen and swimmers who have seen the monster.
Still appearances of the monster may occur, keep an eye open…
QUICK FACTS
Located in the Eastern township, one hour from Montreal (Quebec)
An interior lake of 44 km long with Magog (Quebec) at one end and Newport, VT at the other end
A narrow lake shaped like a boomerang (makes it a quiet lake)
Navigation is easy (no instruments needed) with its safe, clear waters
Plenty of mountains surrounding the lake
ACTIVITIES AND FUN
A paradise for hikers, roller bladers, bikers, riders, and fishermen
4 major ski resorts in the area
Little loyalist villages, 9 of them occupy the territory around the lake
Social and nightlife in downtown
Magog is very much alive Magog and surroundings are very busy in summertime
Marina "le Merry club" is located at a short walking distance from downtown